Unique Water Activities for Children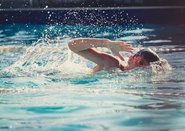 With summer halfway over, and weather temperatures at their annual high, there's no better time to talk about how you can "beat the heat" with your kids. A great way to stay cool and have fun is with water. Not only is water an inexpensive resource, but its easy to use creatively and children really do love it! Here are 5 unique water activities you and your kids can do this summer:
1)Painting with water
This is a great way to spend time outside. Grab some paintbrushes and cold water and choose a good drawing spot. A place on the patio, or a sidewalk square is probably best. You want to make sure that the concrete is grey, not black, so your water drawings shows easily. Now get to painting! Try to paint a whole picture, write your name, or wet the whole sidewalk square before the water dries up. This activity can also be used with ice cubes—see how much you can paint before the ice cube melts!
2) Recycle squeeze bottles into "squirt" bottles
If you're not too keen on having water guns in the house, and want to make good use of recyclable products, you can turn plastic bottles into squirt bottles. This can be done with empty dish soap bottles, condiment bottles, or even water bottles with a hole poked into the cap. Your kids will have tons of fun spraying each other, just remind them that you're off limits (unless you come prepared with your own bottle yourself.)
3) Fishing in a kiddie pool or bathtub
This activity is especially suitable for younger children. Buy (or make) a small plastic fishing rod with a magnet on the end of the string. Then fill your pool or tub with magnetic fish or even magnetic letters if your kids are older. Have fun catching different fish, or spelling words! This game can be played all year long with the bathtub, but playing it outside gives you that extra "summer" feel.
4) 'Sink or Float' experiment
If your child is inquisitive and enjoys science, then you definitely want to share this activity with them. Collect a bucket and a bunch of small household objects: coins, writing tools, tiny office supplies, small trinkets, etc. Fill the bucket with water, and then test each object to see if it will sink or float. Turn it into a guessing game, or a competition to see who can correctly guess the most.
5) 'Minute to Win It'
Here's a great challenge for older kids, and a fantastic party game. Fill some plastic cups to the brim with water, and sit a ping pong ball on the water's surface. Then, using a straw, try to blow the ball off the water. See how many ping pong balls you can earn in one minute!
Another way to stay cool and have fun this summer, is to invest in the right water for your family. Your kids need clean, pure water to function at their best, and they need to like the water they're drinking. Cedar Springs spring water is the healthiest water option for your children. It's natural, pure, and tastes great! Order today and make your summer the best it can be.