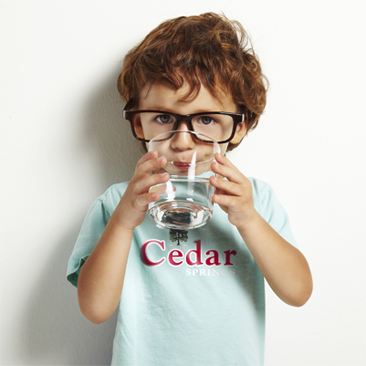 About Cedar Springs
Cedar Springs has earned an incomparable reputation as an industry leader in product quality, customer care and convenience by providing exceptional water delivery services to homes and businesses in the Toronto and surrounding area since 1986.
The source of our award-winning 100% Certified Canadian Spring Water is an environmentally protected site in Oro - Medonte, just North of Horseshoe Valley, Ontario. This premium quality Canadian spring water was judged to be the "Best Tasting Water in North America".
Every single bottle of Cedar Springs Water is tested daily and exceeds stringent levels of quality control for purity and safety. Our sodium free alkaline spring water naturally contains no metals, additives or chemicals and is CBWA certified.
Personal service has always been of great importance to us. Our customers are able to speak directly to a customer service representative and we are the only certified company to offer a reminder email or call before each delivery day to see if you require water.
Courteous drivers are in your area every 10 business-days, committed to providing exceptional service with each and every delivery.
Cedar Springs' mission statement is simple: ''Provide the safest, purest spring water and unsurpassed personal service''.
The Cedar Springs Advantage
Discover why Cedar Springs is quickly becoming everyone's favourite source for spring water.
Courteous and reliable drivers
Our very own "TeleWater System". Our way of staying close to you.
We call you in advance of your delivery to make sure we meet all your water needs.
A complete line of products for all your needs.
Follow the leader to your best glass of refreshing spring water anywhere.
FEATURES: Why spend 70 cents or more per glass for soda or juice when Cedar Springs is only pennies a glass?
TASTE: Discover why Cedar Springs is quickly becoming the fastest growing bottler of spring water today... "It's gotta be the taste".
SERVICE: Our philosophy is a company wide commitment to every single customer. We listen to our customers and do whatever possible to surpass their needs and wants.
SOURCE: Every drop of Cedar Springs water originates from the deep natural springs nestled in the picturesque and unspoiled land of Oro - Medonte, Ontario. Naturally filtered, naturally alkaline, naturally great!
CONFIDENCE: Every Cedar Springs' customer can be confident that their water has undergone the most comprehensive and uncompromising tests to ensure every glass is the purest around.