Cedar Springs Water: Richmond Hill and King Township
Here at Cedar Springs Water, our goal is and always has been to provide outstanding service and high-quality products for pure, fresh water. We offer home and office water delivery as well as a number of systems for filtering, softening, and purifying your very own tap water.
Nearly 30 Years of Service in the Richmond Hill and King Township Area
Our courteous, friendly drivers have been delivering bottled water in the area for nearly 30 years, and in that time, we have expanded our services to provide affordable, high-quality water filtration, purification, and softening systems that you can buy, rent, or even rent-to-own. Our water is naturally free of chemicals, additives, and metals, and we test each bottle of water we produce to ensure it meets our stringent quality and safety guidelines.
Richmond Hill and King Township Water Filtration Systems
Standard Filtration Water Cooler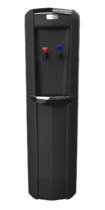 Stainless steel water reservoir
Adjustable cold water thermostat
Up to 5 year warranty on purchased units
Capable of chilling up to 1 gallon of water per hour
Cleanable surfaces
Cooler specifications(view PDF)
Type of Filter
Rental Rate
Cook N' Cold
Rental Rate
Hot N' Cold
Purchase Price
Cook N' Cold
Purchase Price
Hot N' Cold
Omni 200
$36.95 / month
$39.95 / month
$949.00
$1049.00
½ Mic Lead & Heavy Metal Filter
$27.95 / month
$30.95 / month
$849.00
$949.00

Reverse Osmosis
$44.95 / month
$46.95 / month
$1195.00
$1295.00
Prices quoted are based on a 36 Month Agreement and include an Annual Service and filter change, No added costs, no hidden fees. Standard Installation is included with a 36 month agreement
If you prefer to filter your own water at home or at the office, Cedar Springs Water offers you all of the supplies you need. From whole-home systems that we install at the inlet to under-sink systems that filter your water at the tap, it is possible to purify, clarify, and enhance the taste of your very own tap water. These systems remove particulates and debris that may make your water appear cloudy or influence its taste.
Water Purifiers in Richmond Hill and King Township
4C Filter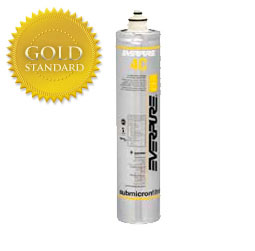 $70.00 each
3,000-gallon capacity
NSF (National Sanitation Foundation)
Class 1 certification for health effects (Std 53)
Aesthetic effects (Std 42)
Removes as small as 0.5 micron in size
Sanitary quick change
The tap water in most locations, including the Richmond Hill and King Township area, contains volatile and industrial chemicals as well as chlorine – a bleach-like substance that kills potentially harmful bacteria in the water supply. Although these chemicals and chlorine appear in minute amounts, it is often better to be safe than sorry. Our water purification systems remove these chemicals, leaving behind only pure, fresh water.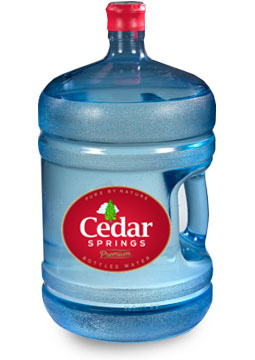 $8.95 each
Natural spring water from a government protected source
Bottled in food grade polycarbonate
Net weight of 20 kg (44 lbs)
Compatible with bottle cap puncture system
Fits on all standard water coolers
Convenient bottles with handles
Refundable bottle deposit of $10.00 each
Minimum 3 bottles per delivery
Certified Canadian spring water, naturally alkaline
Height 50 cm (19.5")
Diameter 27.5 cm (10.75")
Cedar Springs Water covers all of your water delivery, filtration, purification, and softening needs. A friendly, courteous driver is in the Richmond Hill and King Township area every 10 days, and you can use our high-tech TeleWater system to place all of your orders.
Richmond Hill and King Township Water Softeners
I'm happy I decided to go with Cedar Stream Filtration to install a whole-home water softener. To start, they had a competitive price and delivered a premium product. I was really impressed with the level of service I received as I probably emailed Cedar Stream Filtration about 10 times with various questions and always got quick responses answering...
ALL CEDAR STREAM FILTRATION WATER SOFTENERS ARE BUILT WITH CANADIAN RESIN FOR THE HIGHEST QUALITY. NO OFF SHORE MEDIAS ARE USED
Standard Water Softener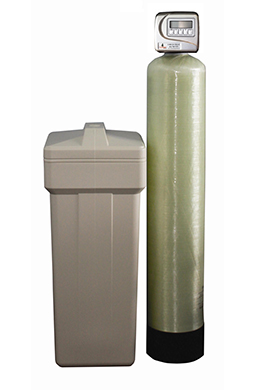 Electronic demand design for maximum efficiency
FEATURES:
High flow water distribution system
Simple water saving design
Electronic control system for easy set-up
12 Volt AC uses less than $3/yr in electricity
Regenerates as scheduled
Saves money, uses less water softening salt and water
High flow control valve to satisfy any household soft water demand
7 year warranty
Deduct $230.00 from list price with Timer control valve (less efficient)
Specifications(view PDF)
When there are high amounts of metals and minerals in your water, you have "hard water". While you cannot see it in the water itself, and while many people cannot even taste it, it causes problems. This hard water builds up in your pipes over time, and it leaves scale behind. It makes your hair appear dull, and it causes your skin to become dry and flaky. With water softeners from Cedar Springs Water, your detergents work much better, your hair and skin are healthier, and your appliances can last years longer.