11.3L Cedar Springs Bottled Water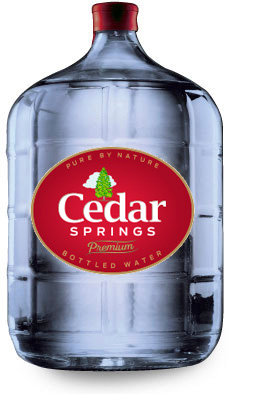 $16.00 each
Natural spring water from a government protected source
Net weight of 16 kg (35 lbs)
Compatible with bottle cap puncture system
Fits on all standard water coolers
Refundable bottle deposit of $10.00 each
CBWA certified (visit www.cbwa.ca)
Independently tested
Mineral analysis/CBWA standard of quality report
Certified Canadian spring water, naturally alkaline
Height 44 cm (17")
Diameter 24 cm (9.5")
11.3L Reverse Osmosis Bottled Water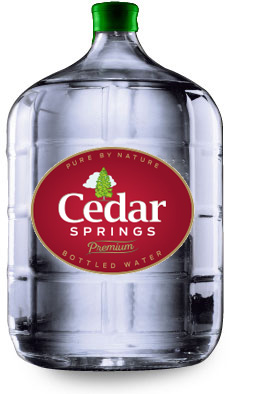 $16.00 each
99.9% Mineral free water
Net weight of 16 kg (35 lbs)
Compatible with bottle cap puncture system
Fits on all standard water coolers
Refundable bottle deposit of $10.00 each
CBWA certified (visit www.cbwa.ca)
Independently tested
Mineral analysis/CBWA standard of quality report
Height 44 cm (17")
Diameter 24 cm (9.5")
Glass Bottled Spring Water Toronto
Cedar Springs' bottled water originates from a protected certified Canadian spring, just north of the Horseshoe Valley Resort area. Our pure Canadian spring water comes from deep beneath the earth's surface. It has travelled through multiple layers of soil, sand and bedrock resulting in spring water that is of unparalleled quality and taste.
Cedar Springs now provides our Award winning spring water in 11 litre Italian glass bottles. We are committed to keeping your bottled water as pure as can be. Cedar Springs' new 11L glass bottles fit on all standard water coolers. They look stunning and protect our spring water's distinctive clean, crisp taste — as if you were drinking it right at the spring.
The Mountain Valley water company began in 1871. Since then every single drop of Mountain Valley spring water comes from a single spring surrounded by a protected forest in the foothills of Ouachita Mountains near Hot Springs, Arkansas. This area is a protected watershed famous for its warm thermal springs as well as a number of cool springs. In order to ensure the quality of their water source, Mountain Valley Spring Company owns and protects over 630 acres of forest that surround their spring water source.
All Mountain Valley Spring Water available in Canada is sold only in glass bottles. We believe it to be the safest and most durable food grade material available. Our premium bottled spring water must be kept absolutely pure from our source all the way to your body.
18.9L Mountain Valley Spring Water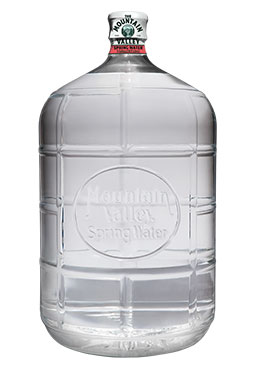 $28.00 each
Natural alkaline spring water from Hot Springs, Arkansas
Net weight of 25 kg (55 lbs)
Compatible with bottle cap puncture system
Twice named best tasting water in the world
Fits on all standard water coolers
Refundable bottle deposit of $10.00 each
Height 50 cm (19.5")
Diameter 27.5 cm (10.75")
special offers

+

current customer information centre