​Touchless Water Cooler: Create A Healthier Workplace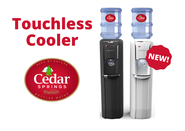 As employees return to work across Ontario, it has never been more important for companies and businesses to invest in healthier solutions for their staff. Cedar Springs' new Inspiration Touchless Water Cooler is the answer workplaces have been waiting for.

Cedar Springs' touchless water cooler dispenses the same premium spring water you love, but now completely touch-free! Our touchless water cooler has a sensor-activated touchless dispenser. With just a wave of your hand, you can drink your favourite water at your preferred temperature. Plus, to make re-filling your reusable bottle even easier, the touchless water dispenser is now four inches higher than most other models.
For those who pay special attention to energy efficiency, our touchless water cooler is Energy Star rated. All Cedar Springs coolers are highly energy efficient, and include free diagnostic service available for customers.
As always, we at Cedar Springs are dedicated to giving you easy access to fresh spring water throughout your work day. Our touchless water cooler features a two sensor hot water safety feature, and an adjustable thermostat. The touchless cooler also comes with a stainless steel reservoir, and a No Leak EZ-Fill patented non-spill protector system, to ensure that you can fully enjoy the spring water you've ordered, without spills or leaks.
The touchless water cooler is also available in either black or white. The sleek, modern design complements any office or work space, and its touchless system helps employees stay hydrated throughout the day while prioritizing office cleanliness and communal health.
How To Keep Your Workplace Healthy and Clean
There are many ways to keep your workplace sanitary and maintain good health for all employees. Simple and effective routines such as encouraging frequent hand washing and sanitizing, and enforcing current wellness protocols are successful approaches to battling germs and optimizing good health. It is also recommended that employees stay home when feeling unwell.
Staying healthy is not just a matter of preventative measures, but also requires a balanced and nutritious lifestyle. Exercising regularly and getting enough sleep are essential routines that we need in order to stay energized and strong. Your diet is even more important. Eating natural, healthy foods like water-rich vegetables, high proteins, whole grains, and fruits, elevates your immunity and vitalizes your body. If you don't have a regular intake of essential vitamins and minerals, you will be more prone to sickly symptoms and have a weakened immune system.
One of the best ways to ensure a healthy body and a healthy workplace is to drink lots of spring water. When we are dehydrated, we can't function to the best of our ability. We also miss out on the essential minerals that spring water provides, and toxins are not flushed out of our body as efficiently.
Spring water is essential for maintaining a strong immunity. At Cedar Springs, we deliver fresh, natural spring water to the Greater Toronto and Hamilton Area. Our spring water travels from deep beneath the earth's surface, is naturally filtered, and tastes incredible. Drinking spring water is one of the best ways to stay healthy.
Our premium spring water is now available in 11L glass bottles. Both our glass and traditional bottles fit on all Cedar Springs' coolers, including our new touchless water cooler.
Now you can enjoy Cedar Springs at work without the touch of a button!