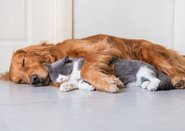 The warm weather has finally arrived for the season, and now it almost feels too hot to go outside! We all enjoy the sunlight and summer vibes, and so do our cats and dogs. However, hot temperatures are not all fun and games. Heat exhaustion and heat stroke are common ailments that not only endanger you, but your pets, too. Today we'll look at the warning signs of overheating, along with preventative measures you can take to help keep your family and your furry friends safe this summer.

When it gets hot we have the luxury of wearing light clothes and cooling off through our sweat glands. Pets are the opposite though. They can't take off their heavy fur and they don't really sweat since their sweat glands are located in the small pads of their paws. Instead, dogs tend to pant and you might see your cat laying with their belly exposed to cool off, but this isn't always enough.
Heat exhaustion is dangerous for dogs as it can potentially lead to heat stroke or cardiac arrest.
If your dog is panting excessively or seeming confused, this could be the first sign of heat exhaustion or worse. Other progressed symptoms can include collapsing, convulsions, vomiting, diarrhea, drooling, a fast heart rate, and a blue or red tongue/gums in the mouth. If your dog has a lot of fur, a flat face, is a new puppy or very old, they are more susceptible to becoming sick in the heat.
Symptoms of heat exhaustion in cats are similar to that of a dog's. If your cat is meowing a lot, restless, panting or wheezing, vomiting or having diarrhea, is lethargic or has rapid heartbeat the heat could be making them ill. One might think that indoor cats can't overheat but apartments and houses (especially with lots of sunlight) still get very hot in the summer. Make sure you're adjusting your thermostat accordingly, so your cat stays comfortable.
On that thought, keeping yourself comfortable and monitoring your body is vitally important too! You might not always notice if you've been outside too long, as sometimes symptoms of heat exhaustion can develop later. Signs that you're exhausted by the heat include: profuse sweating, extreme thirst, dizziness, light headedness or fainting, fatigue, a fast but weak pulse, headache, and nausea. If not treated, heat exhaustion can become heat stroke, which is rarely fatal but can cause organ and brain damage. If you have a fever that reaches 40 degrees Celsius, flushed red skin, trouble breathing, or even a lack of sweating, you could be experiencing heat stroke and should seek medical attention immediately.
Knowing all this, it's clear that prevention is the best medicine, for both you and your pets. So how can you keep yourself and your pets cool?
With your pets, keep the temperature low in your home and make sure your outdoor spaces offer shade if your pet spends time outside. Don't leave your dog in the yard for too long, or leave them in your car alone. When going on walks take advantage of the cooler mornings and evenings, don't stay out too long, and bring water! Water is a natural coolant for both pets and people. It regulates temperature and helps re-balance electrolytes. If you're looking for a healthy spring water option for yourself, your dog, or your cat, try Cedar Springs. Every day our spring water is enjoyed by our customers and their pets, who love the pure, great taste.
Water is your best resource for staying cool this summer. It's also a good idea to monitor the forecast, wear sunscreen and a hat, and stay in the shade as much as possible. From all of us at Cedar Springs, we hope you have a great summer. Stay hydrated and have fun!