Should You Drink Alkaline Water?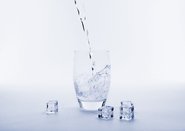 Over the past several years, we've seen an increased interest in alkaline water. It is endorsed among wellness communities as an aid for losing weight, healing small ailments such as acid reflux, and achieving healthier lifestyles.
What is Alkaline Water?
Let's start simple, since not many of us have thought about pH balances since high school. "Alkaline" describes water-based solutions with a pH level greater than 7 on a scale of 0-14. The "pH" level (power, or potential, of hydrogen, depending on where you are from) measures the amount of hydrogen ions (H+) in a solution. High H+ concentrations result in lower pH readings, and vice versa. Alkalinity is the opposite of acidity, therefore anything above 7 on the pH scale has a lower concentration of hydrogen ions, and is therefore considered basic, or alkaline. For example baking soda, when dissolved in water, is between 8 and 9 on the pH scale. Far lower on the scale is orange juice, with a typical pH of 3. Where does pure water place on the scale? The lucky, neutral, number 7. However, when purified water, such as Reverse Osmosis or Distilled, becomes in contact with air it absorbs carbon dioxide and becomes acidic, with a pH typically ranging from 5.5 to 6.5, depending on the amount of exposure to air.
Are there benefits to Alkaline Water?
Many believe that alkaline water is beneficial because it neutralizes acidity in our body, which can help alleviate heartburn, detox our system, aid our metabolism, boost our oxygen and energy levels, as well as lubricate our joints and muscles, while improving our health overall. However, many experts also feel that there is a lack of scientific research that either supports, or disproves, such claims. Many of the benefits listed can be attributed to staying properly hydrated and a healthy body should be able to balance acidity.
What type of water should you drink?
Negotiating the jungle of marketing hype can be very confusing, with several claims that specific brands of water (often artificially manufactured) are capable of curing all ills. If you are looking for a healthy water option, pure natural spring water from a safe source is often the best choice you can make.
Cedar Springs' premium spring water from Oro-Medonte has a pH typically ranging from 7.8 to 8.2, depending on the season. Our water is naturally alkaline, with no added chemicals, and contains no heavy metals or toxins. It is naturally filtered, with an award winning taste. Call 1-800-952-3327 today and taste the difference of Cedar Springs.