​Going Green: How Cedar Springs Is Affecting Positive Change for the Environment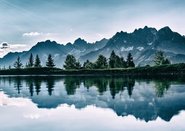 With the environment currently in such a vulnerable state, it's important that companies are doing everything they can to reduce their carbon footprint and make a positive impact in our communities and on our natural ecosystems. It's also important for us, as consumers, to be aware of the environmental efforts made by our service and product providers. With the right information we have the power to affect real change.

At Cedar Springs, environment preservation is a top priority. Our water comes from a protected spring in Oro-Medonte, Ontario. Conservation of the water table, by not over-extracting water from this naturally pure source, is vital to maintaining it. It's not only direct conservation that keeps ecosystems stable, but also the "green" initiatives in our homes, offices and communities that help the environment as a whole.
Another major way Cedar Springs is leading the water industry in effective change is through the use of glass bottles for water coolers. Thanks to the introduction of our Italian glass bottles we have cut down drastically on the use of plastic. Glass is preferred by so many of our customers, not only because of the worthwhile impact it has on the environment, but also because our glass bottles are a natural packaging material, protecting our water's distinctive clean, crisp taste—as if you were drinking it right at the spring.
Another initiative by Cedar Springs for environment preservation is recycling. Our empty bottles are picked up from your home or office, then refilled and reused many times over—greatly limiting the amount of waste created by single-use bottles. Even if single-use containers are recycled using something only once is not nearly as environmentally friendly as is reducing the need for them to begin with.
When our bottles finally reach the end of their life we reprocess them in one of two ways. Our glass bottles are recycled normally, while our polycarbonate bottles are recycled into things like lawn furniture. One traditional 18.9L bottle can remove up to 2000 single-serve bottles from the curb side, meaning that both kinds of bottles are dramatically decreasing the amount of plastic waste that comes from other bottled water options.
In addition to these bottle-related methods Cedar Springs also sells biodegradable paper cups; perfect for use with water coolers. We also ensure that our trucks receive frequent maintenance checks to keep emissions low and fuel use at a minimum. Cedar Springs is committed to protecting the environment and the spring water it provides. Initiatives such as glass options, re-use and recycling are helping our planet, but there is still a great need for more environmentally conscious companies and consumers.