The Benefits of Fruit Infused Water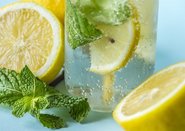 Drink All About It: Fruit Infused Water
There is so much variety when it comes to the fruits you can infuse water with. These options all taste great on their own, but mixing and matching is even healthier and prevents overused flavours from becoming boring. Some of the health benefits of infused water are specific to certain fruits, but some benefits are more common. Knowing the wonders and works of each fruit can help you decide what type of drink to make—especially if you're battling a certain ailment or trying to achieve a health-related goal.
Lemon
-Decreases hunger & increases metabolism
-Source of Vitamin C
-Prevents Kidney stones
Lemon is the most popular option for infused water. It's a great choice if you're looking to eat less or lose weight, because it helps keep you full. The Vitamin C lemon provides is good for your body, your skin, and the citrate in lemon helps break down potential stones in your kidneys. If you think lemon water is too strong for you, start with one slice and work your way up. You'll get used to the taste over time.
Lime
-Source of Vitamin C
-Lowers chance of heart disease
-Aids digestion
Limes perform the same "citrus magic" that lemons do. Additional benefits of Vitamin C include stronger immunity, lower blood sugar, and less inflammation. The magnesium and potassium in lime can help you avoid heart disease and decrease blood pressure.
Cucumber (yes, it is a fruit!)
-Source of Antioxidants
-Strengthens bones
-Lowers blood pressure
Cucumbers offer a lot of Vitamin K, which makes your your bones healthy. The potassium in cucumber controls the sodium in the body (lowering blood pressure), while cucumber antioxidants help to prevent serious diseases.
Watermelon
-Source of Vitamin A
-Source of Fibre
-Benefits skin and hair
Watermelon contains lots of vitamins, including A and C. Together they help your skin and hair, and vitamin A ensures good organ health. The fibre in watermelon helps with digestion, as does the natural amount of water within the fruit.
Mint leaves (okay… this one is a herb)
-Aids indigestion
-Can help mental health
-Maintains good breath
Mint may not be a fruit, but it's a very common addition to fruit infused drinks. Mint helps get rid of bad breath, and its scent has been proven to decrease stress and anxiety!
What type of water should you infuse with fruit?
While there are multiple kinds of fruit you can choose from, you should only be drinking one kind of water: Spring water.
Spring water is the healthiest option for hydration. It's free of contaminants, filtered naturally, and makes fruit infused drinks taste even better. If you're searching for a reliable and healthy water option, Cedar Springs is known for its amazing taste and remarkable water quality. Order today and take another step toward healthy living with pure, premium spring water.