5 Ways to Stay Healthy this Christmas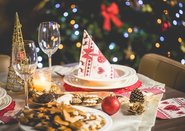 The neighbours have decorated their houses with twinkling lights, the shops are playing songs about Santa, and you've pulled all the winter jackets from that deep corner of the coat closet. Christmas is fast approaching! (and New Year's is, too.)

This can be a beautiful time of year, hopefully filled with lots of celebration, warmth, and thankfulness; but it can also be a time where we stop prioritizing our health goals (both physical and mental) by promising to "make up for it" in January. A busy schedule and food temptations don't need to be your downfall during the Christmas season. It's possible to enjoy the holidays, without giving up on your progress. Here's five ways you can stay healthy this Christmas, and still enjoy everything the season has to offer:
1) Prepare ahead of time
One of the best ways to stay on track with your goals is to be intentional and plan ahead. If you want to eat a ton of sweets over Christmas, then you may want to consider cutting back in the weeks leading up to the holidays. Another great idea is to start on your New Year's resolution early. Don't give up on your exercise routine—embrace it! Spend the early days of December working hard, and then take a much deserved break during Christmas. This will help keep you healthy, but also make your routine in January feel less like a "resolution" and more like a "continuation."
2) Consume less sugar
Potentially, the worst thing we consume around the holidays is sugar. Even if you try to avoid chocolates and dessert, sugar is still a main ingredient in lots of beverages, and even some side dishes. Did you know that in some cans of cranberry sauce, there are twenty-four grams of sugar per serving? That's six sugar cubes! This is because sugar is needed to sweeten the tart flavour of the cranberries. Wow! A much better alternative is to make certain things at home, so you can monitor the amount of sugar added. Consider finding a natural recipe for cranberry sauce online, or making your own dessert instead of buying one at the store. Being intentional with your choice of drink is also extremely important (see point #5).
3) Eat healthier appetizers
Have you ever snacked on chips and chocolate before a big holiday meal? Would you rather save those treats for afterwards, and instead have a few, light treats before dinner? Appetizers are easy because most options require little work, yet they're delicious and can serve several people. Consider a charcuterie board with simple meats, cheeses, and whole wheat crackers. Hummus and veggies, or fruits and nuts are also a great choice, and a shrimp ring is always appreciated. These are all festive platter ideas that will actually enhance your Christmas theme, while avoiding all the unhealthy oils and sugars that come in those normal, everyday snacks.
4) Take care of yourself
Lots of health dialogue around the holidays focuses on diet and nutrition, but it's important that you prioritize your mental health as well. Christmas can sometimes feel overwhelming because you have so many things to do, and lots of people to see. Remember to see this season as a time of rest and thankfulness. Block out some time for yourself, even if it's just a couple hours, and reset. You might have other people to care for and serve this Christmas, but your health matters, too. Do your best to renew your mind, so you feel energized and healthy when the holidays are over.
5) Serve spring water
Referring back to point #2, it is extremely important to be intentional with the beverages you serve and drink at Christmas time. A delicious alternative to soft drinks is spring water. Not only does spring water pair great with hearty meals and make fantastic hot chocolate, too, but it's healthier than any other beverage you can drink during the holidays.
Cedar Springs' pure, natural spring water is known for its great taste, and is sure to please all your guests this Christmas. Call 1-800-952-3327 today, and stay on track with your health goals this season!