5 Super Smoothies for Summer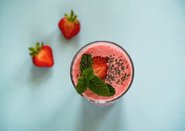 August might be coming to a close, but we still have lots of the summer season left to enjoy. Today we're looking at some tasty smoothies you can make for yourself, your family, and your friends. These recipes are simple, easy, and healthy! They're great for breakfasts, but also make for a perfect mid-day pick-me-up, or a post-workout snack.
If you like your smoothies chilled and frothy, consider adding ice cubes to your blender, too. Use our Cedar Springs spring water to freeze the cubes ahead of time, and you'll be good to go! Our water can also be used to thin out any smoothies that are too thick, so make sure you always have a good supply of spring water on hand!
The measurements for these recipes will give you two servings. Adjust the amounts if needed according to serving size, and voila! We hope you enjoy these smoothie recipes as much as we do!
1)Peanut Butter & Banana
Almond / Cashew Milk (1/2 cup)
2 Bananas, frozen, sliced
Natural Peanut Butter (1/2 cup)
Vanilla Extract (1 tsp.)
Smoothie Tip #1: Consider adding extra ingredients to your smoothies such as turmeric powder, matcha powder, or chia seeds. These won't affect the taste off your smoothies too much, and all have exceptional health benefits.
2) Berry Blast
Greek Yogurt (1/2 cup)
Organic Orange Juice (1/4 cup)
Mixed Berries (1 1/2 cup)
Strawberries, Blueberries, Blackberries, or Raspberries.
Spinach (1/2 cup)
Honey (1 tsp.)
Smoothie Tip #2: Protein Powder is a great add for any smoothie. If you regularly exercise or you're looking for a quick and healthy meal replacement on a busy day, protein powder smoothies are fantastic. Find a protein that works for you, without lots of added sugar!
3) Pineapple, Kale & Cucumber
Greek Yogurt (1 cup)
Chopped Pineapple (1 1/2 cups)
Kale (2 cups)
1/2 Cucumber, peeled, sliced/cubed
4) Peach Mango
Almond Milk (1 cup)
Greek Yogurt (1/2 cup)
Peaches, sliced (1 cup)
Mango, chopped (1 cup)
Ginger, chopped (1 tsp.)
Honey (1 tsp.)
Smoothie Tip #3: Look for smoothie packs in the frozen section at the grocery store. They come ready made, usually with frozen fruit and veggies, and recipe suggestions. If you need a quick smoothie in the morning, these packs are terrific.
5) Watermelon & Blueberry
Blueberries (1 cup)
Watermelon, cubed (1 cup)
Ice (1/2 cup)
Which of these smoothie recipes will you try first? Let us know on our Facebook page, and send us a picture of your creations!