Glass Water Plan
Free Standard Rental Cooler Included
Upgrade to a New Cooler for you to keep for just $3.00/month
Upgrade to a Hot/Cold, Black, Stainless Steel or Touchless model for a nominal extra charge
Choose one of our easy Automatic payment methods
Choose Certified Spring or Reverse Osmosis Water
Convenient to-your-door delivery each month
Water Plan A
3 - 11L

Glass Bottles & Cooler

$49.95

/month

$16.00

for each additional bottle
Water Plan B
4 - 11L

Glass Bottles & Cooler

$64.95

/month

$16.00

for each additional bottle
Water Plan C
5 - 11L

Glass Bottles & Cooler

$77.95

/month

$16.00

for each additional bottle
Some restrictions and minimum terms apply. Refundable bottles deposit required.
Cooler included with any of the three WaterPlans:
New Cook/Cold/White
Add $3.00/Month

Upgrade to one of these coolers for a nominal price:
New 2.0 Cook/Cold
Add $7.00/month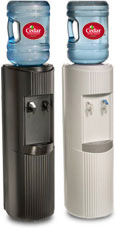 New Stainless Steel
Add $12.00/month

Call our sales department at 416-798-7675 for more details or fill out the form below and click submit and one of our sales representatives will contact you within 1-2 business days to set up delivery.
For immediate assistance during regular business hours (EST), you can contact one of our representatives toll free at 1-800-95-CEDAR (23327)
Cedar Springs
45 Villarboit Crescent
Concord, ON L4K 4R2
special offers

+

current customer information centre